Hemo Plus Forte
RESTORATIVE ASSOCIATION OF VITAMINS AND MINERALS. ADDED WITH PHOSFORUS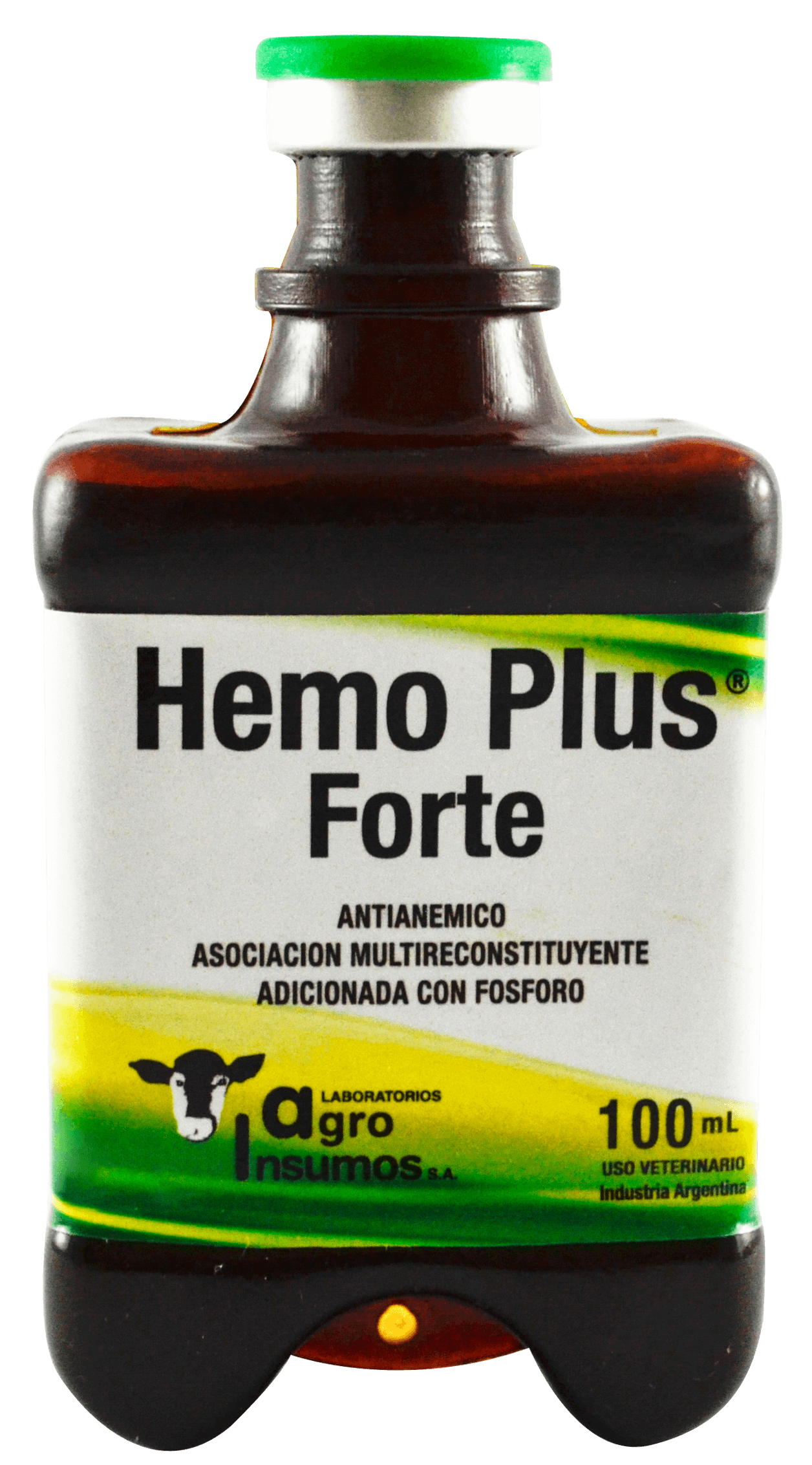 For export only
Presentation:
Bottle of 100 ml
Indications
Prevention and treatment of all kinds of disorders of the haematopoiesis, anaemias caused by miss-feeding, infection, parasites or post-hemorrhage , amongst others.
General restorer tonic for metabolic disorders , weakness and weight loss because of deficient feeding, exhaustion because of excessive work, of high production, lack of appetite, convalescence from parasite and infectious illnesses, intoxications, fractures, sexual exhaustion, fertility disorders amongst others.
Potent stimulant of appetite and growth; milk and meat production.
Specific for the treatment of illnesses produced by haematic protozoa (anaplasm, piroplasm).
Dosage and admnistration
Cattle: 10 to 12 ml
Calves: 5 to 10 ml
Sheep: 5 ml
Pigs under 50kg: 3ml. Pigs over 50kg: 5ml
Intramuscular, subcutaneous or intravenous (slow application).
In larger species the complete treatment consists of a series of 5 doses, one every 3 days.
In severe cases apply daily until the treatment is fnished according to the professional criteria of the veterinarian.
For minor disorders, apply twice a week.
Formula
Cobalt gluconate

0.07 g

Copper gluconate

0.02 g

Manganese gluconate

0.02 g

Vitamin B12

0.015 g

Folic acid

1.50 g

Sodium cacodylate trihydrate

2.00 g

Iron ammonium citrate

2.00 g

Sodium glycerophosphate

1.00 g

Formulation agents q.s.

100 ml