Kuplamin
ENZYMATIC COFACTORS AND ESSENTIAL AMINO ACIDS ASSOCIATION VITAL FACTORS OF ANIMALS' METABOLISM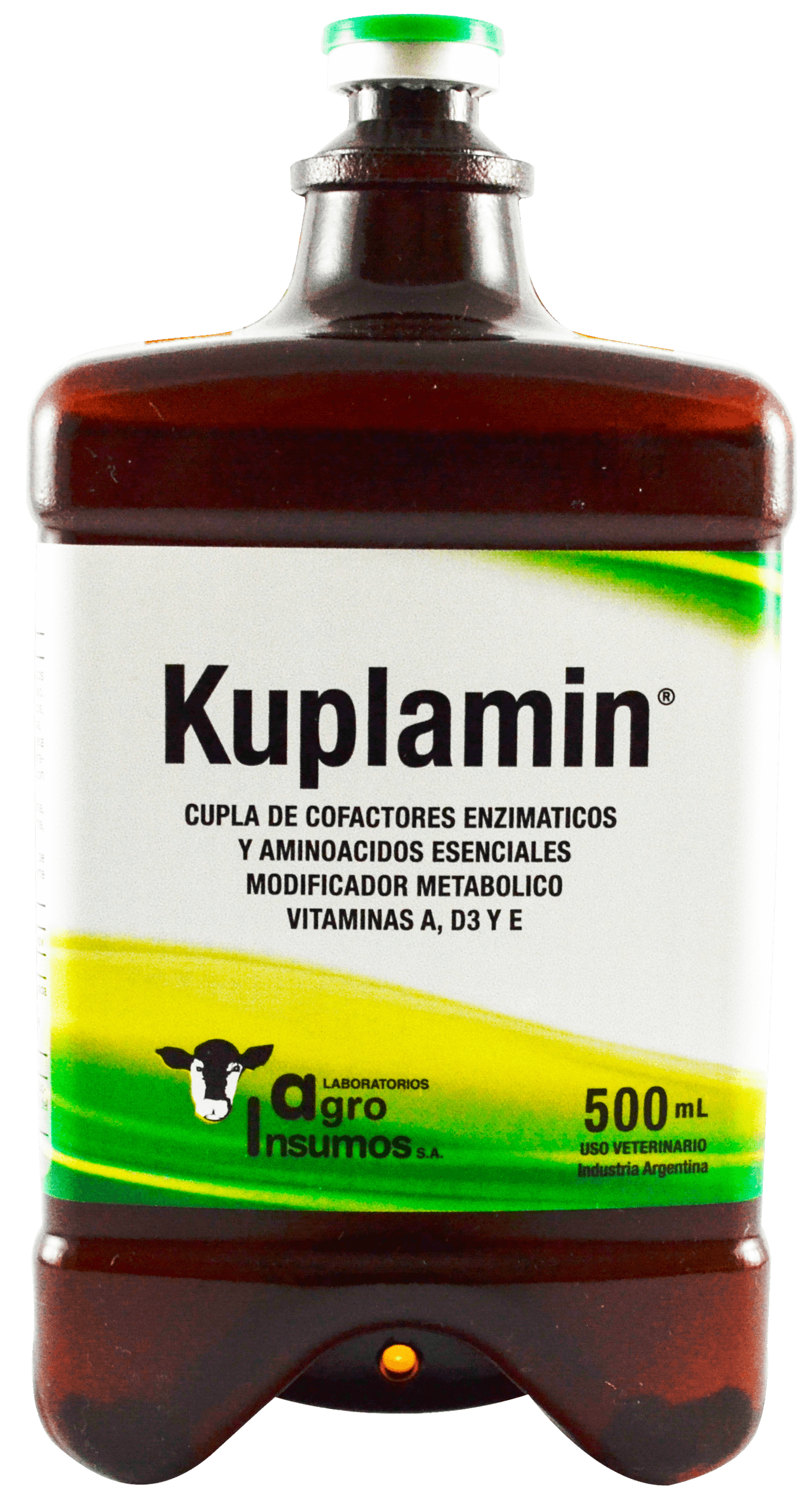 Presentation:
Bottle of 100 & 500 ml
Indications
Kuplamin is indicated for growing animals and for prevention and/or treatment of deficiencies of Copper, Magnesium, Zinc, Vitamins A, D and E.
Deficient keratinization of the wool, retention of placenta, deficient development, bone alterations, anemia and convalescence states.
Coadjuvant in treatments with antibiotics and antiparasitics.
Reduces the adaptation period in animals entering the Feedlot.
Ideal for pre-weaning and post-weaning as a stress preventative.
Dosage and admnistration
Cattle, Sheep and Pigs: 1 ml / 20 kg body weight.
Subcutaneous.
THERAPEUTIC DOSE: repeat after 15 days and then every 30 days.
PREVENTIVE DOSE: every 60 to 90 days.
The frequency and the dosage can be modified according to the veterinarian's criteria.
Formula
Copper Gluconate

0.143 g

Magnesium Gluconate

1.70 g

Zinc Gluconate

0.769 g

Glycine

3.50 g

DL-Lysine

1.20 g

DL-Methionine

0.475 g

Vitamin A Palmitate

500,000 UI

Vitamin D3

750,000 UI

Vitamin E (DL-tocopherol acetate)

1,000 UI

Formulation Agents q.s.

100 ml